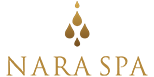 Body Wraps
Nourishing Essential Wrap
This luxurious wrap is designed to absorb impurities, while nourishing and calming the skin. The final touch involves the application of organic coconut oils that deeply hydrate and bring out the skin's natural radiance.
Herbal Body Wrap

Rebalancing Moisturising Applied

Detoxifying Therapy Wrap
A Dead Sea Mud Wrap offers a customised skin treatment that exfoliate, smooth and refine skin texture. Your skin will be restored to a pure and luminous state. Leaving you feel simply wonderful and completely revitalized in mind, body and soul.
Dead Sea Body Wrap

Rebalancing Moisturising Applied

Rejuvenating and Firming Wrap 
This rejuvenating wrap invigorates revitalizes the surface of the skin. The wrap specifically counters cellulite by tightening up the skin, complemented by a refreshing Asian moisturizer that smoothens up and encourages collagen production.
Green Tea Body Wrap

Rebalancing Moisturising Applied